Scanning Barcodes
To start scanning barcodes, press the Scan button on the main screen:

This will open the scan screen.
As you can see, the CLZ Barry connection status icon is available here as well. Check the Getting Started to see what the connection icons mean.
Different types of barcodes
What you want to do is tell Barry what kind of item you're going to scan, that way Barry knows exactly what it's looking for while you point and shoot. Tap the type icon to select a type of product. Each type has its own icon so you and Barry both will always know exactly what you're scanning.
For instance if you choose "DVDs/Blu-Ray Discs", you get a little movie reel and Barry will know you're looking for movies.
Note that you can also scan something we call Custom. If you're using CLZ Barry to scan an item that we don't have listed as a type, Custom is the one you want. You can select more than one type of barcode for custom mode through the Settings screen:
Settings > Custom Mode > Choose the types of barcodes you wish Barry to look for.
Scan Screen overview: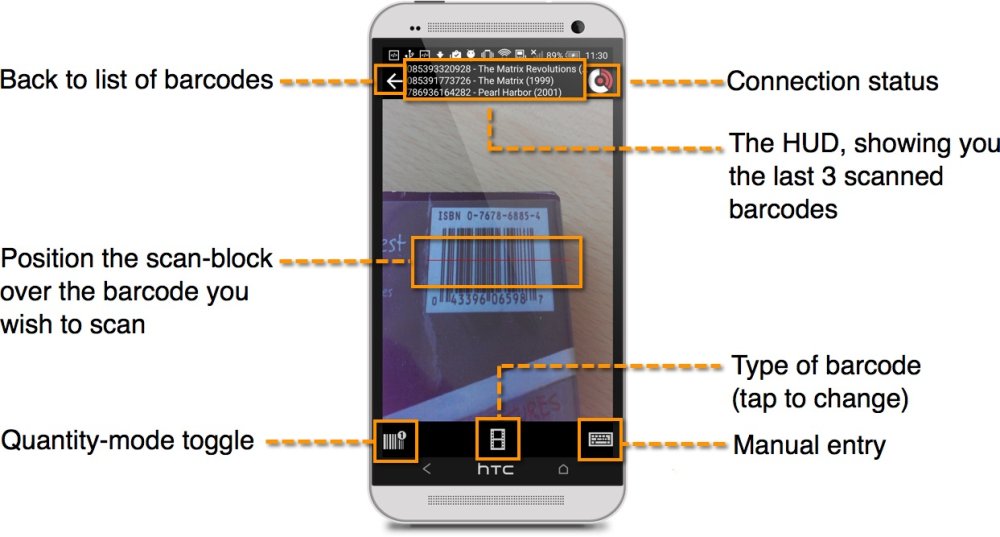 Point and Shoot
After selecting a type of barcode, you can point and scan. The scan is complete when you see the barcode you're trying to scan in the little black box at the top of your screen.
Automatic information about your barcode
If you're looking for one of the predefined types of barcodes you will probably get a title of the item. This is a quick online lookup* of the barcode. If the barcode wasn't found online, it will only show the number.
If you do not want the device to do online lookups, go to Settings (from the main screen) and under "Scanning Barcodes" switch off "Online Lookups".
Vibration and sounds
Depending on the device you're scanning with, CLZ Barry will make a sound and vibrate when a barcode has been scanned.
Don't like the sound or vibration? Go to Settings (from the main screen) and under "Scanning Barcodes" switch them off accordingly.
Duplicate barcodes
If you're trying to scan a barcode that has already been scanned, it will not register nor send it to Buddy on your PC/Mac. You will be notified that it's a duplicate by the text that appears in red:
"Barcode has already been scanned."
If you DO want to be able to scan duplicates, go to Settings (from the main screen) and under "Scanning Barcodes" switch "Allow Duplicates" on.